Pioneer 8G C3 Support for Kuro Elites
ControlCAL v1.41 is now in Beta Testing with two new Profiles and includes internal support for the C3 Interface in 8th Generation Pioneer Kuro Elite Plasma Displays.
With these Profiles, you will be able to gain access to your Display's
special
ISF Calibration Controls for each Input's two Modes (ISF Day and ISF Night).
Before ControlCAL, access to
all
of the ISF Controls would often require expensive Software Applications costing several Hundred Dollars, if not several Thousand Dollars. These special ISF Controls have been out of the budgets of most Calibraton DIYers and even some Professional Calibrators.... Until Now!
With ControlCAL, Display Control and Calibration is Made Easy and inexpensive.
Interested in Joining the Beta Test Group?
If you are interested in downloading these Profiles with ControlCAL v1.41 Beta
and you have a 8th Generation Pioneer Kuro Elite Plasma Display (or any 8G Pioneer with ISFccc support)
, feel free to
Contact Us
.
EDIT:
ControlCAL is no longer in Beta.
Click Here to go directly to the Forum's 8G ISFccc Discussion Thread.
Click
HERE
to view more Screen Caps.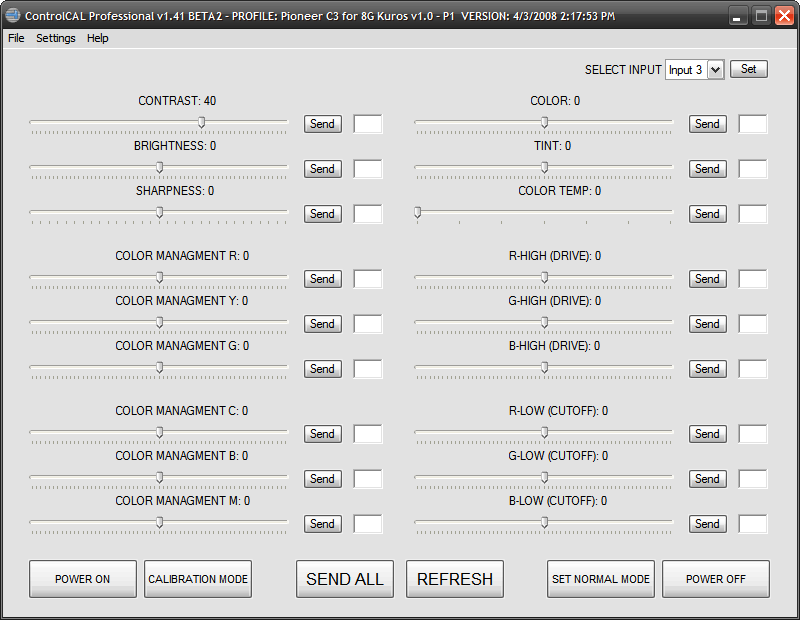 ISF and ISFccc are trademarks of Imaging Science Foundation.
Comments